(Script and Director in Cinema) - (May 4, 2021 Tuesday - 11:00)
(Moderator: Assist. Prof. Dr. Mustafa Ufuk Çelik)
Derviş ZAİM (Director-Screenwriter)
Derviş Zaim was born in 1964 in Famagusta. He graduated from Namık Kemal High School in Famagusta. He studied Business Administration at Boğaziçi University (1988) and conferred upon a master's in cultural studies at Warwick University in the United Kingdom (1994). Zaim lives in Istanbul and gives lectures on cinema at various universities.
Derviş Zaim, who has experience as a TV director and writer, has a published novel titled Ares in Wonderland (1995). He won many awards both in Turkey and abroad with his first film, "Somersault in a Coffin (1996)". In 1995, he won the Yunus Nadi Novel Prize in Turkey with her first novel, Ares in Wonderland.
Waiting for Heaven is the first film in a trilogy planned by the director. In this trilogy based on traditional handicrafts, Derviş Zaim tries to blend the shooting aesthetics of these arts with cinema aesthetics. Nokta is the second movie of the trilogy. However, Derviş Zaim started his film studies in 1991 with his experimental film Camera As, and then directed the TV documentary Stone Around the Mosque. Derviş Zaim also attended a course on independent filmmaking organized by the Hollywood Film Institute in London.
Derviş Zaim, who worked as a TV director and writer between 1992 and 1995, also directed many television programs.
Derviş Zaim's feature films and documentaries were screened at national and international film festivals, where he returned with many awards.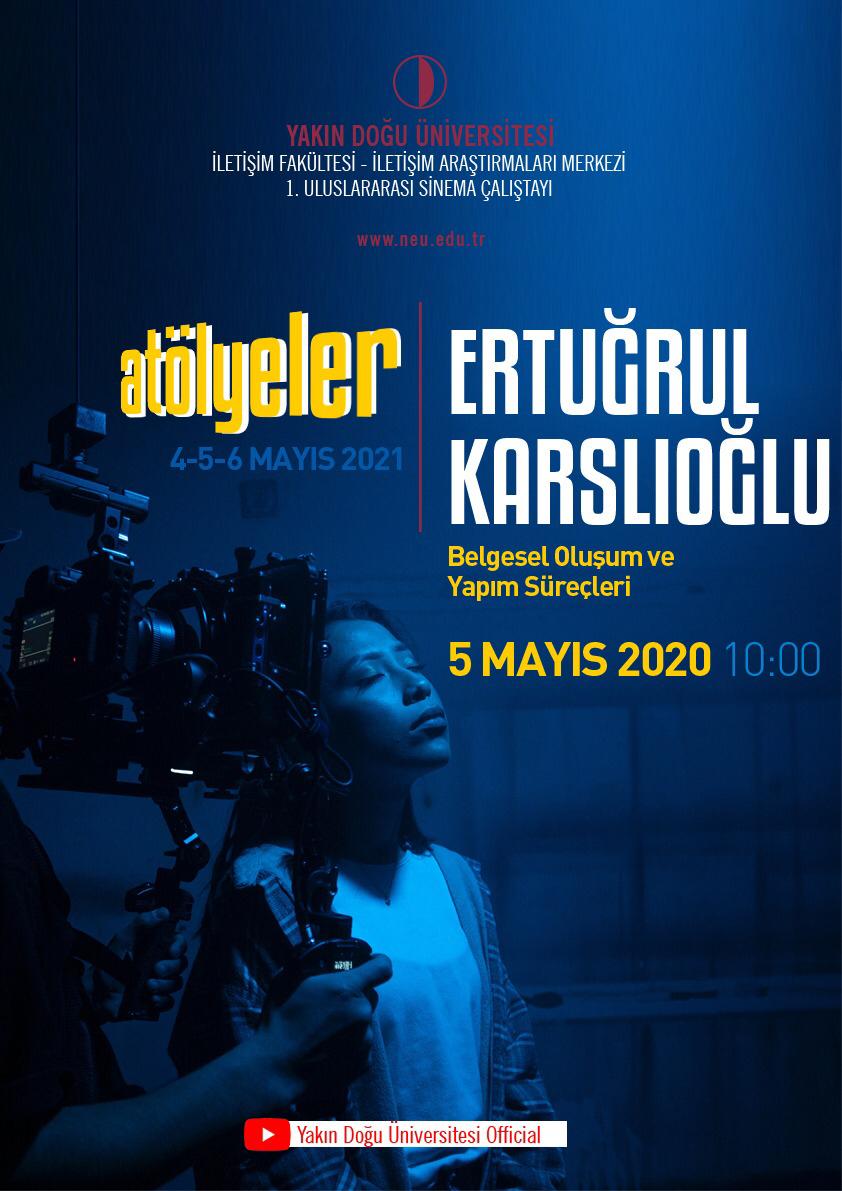 (Documentary Formation and Production Process) - (Wednesday, May 5, 2021 - Time: 10:00)
(Moderator: Instructor Zeyde Örek)
Ertuğrul KARSLIOĞLU (Documentary Director)
Doğan Ertuğrul Karslıoğlu was born in Göle in 1946, and after graduating from Ankara Economic and Commercial Sciences Private High School, started to work for TRT in 1973 as an editor. He studied that aesthetics and creativity were indispensable concepts for the art of cinema at that time while preparing Turkish versions of famous foreign documentaries and realized the importance of documentary productions. He has been working as a producer since 1976 and also started directing.
In the past, the director, who mainly studied on the magazine issues, was the producer of the monthly program called "Observation", together with Fatih Arslan and Canan Tarancı, for about three years. Later, he directed the production named "Petek", which is a documentary magazine program. He moved to the Directorate of Foreign Productions and Sales and continued his work. First of all, he took part in productions that were marketed to foreign countries. He prepared his programs bearing this responsibility in mind. The director, who made co-productions in his early years, made his first documentary in 1982, "The Lycian Civilization". Later, when his research and studies on documentary cinema gradually turned into a way of life, his documentary studies came one after another and the first film of this process was his documentary "Turkish Architecture".
Karslıoğlu, who was able to look at the details from a different perspective while preparing his documentaries especially about Turkey, and thus capturing the details, produced serials, especially news programs, discussion programs and limited documentary productions for national channels between 1993 and 2000.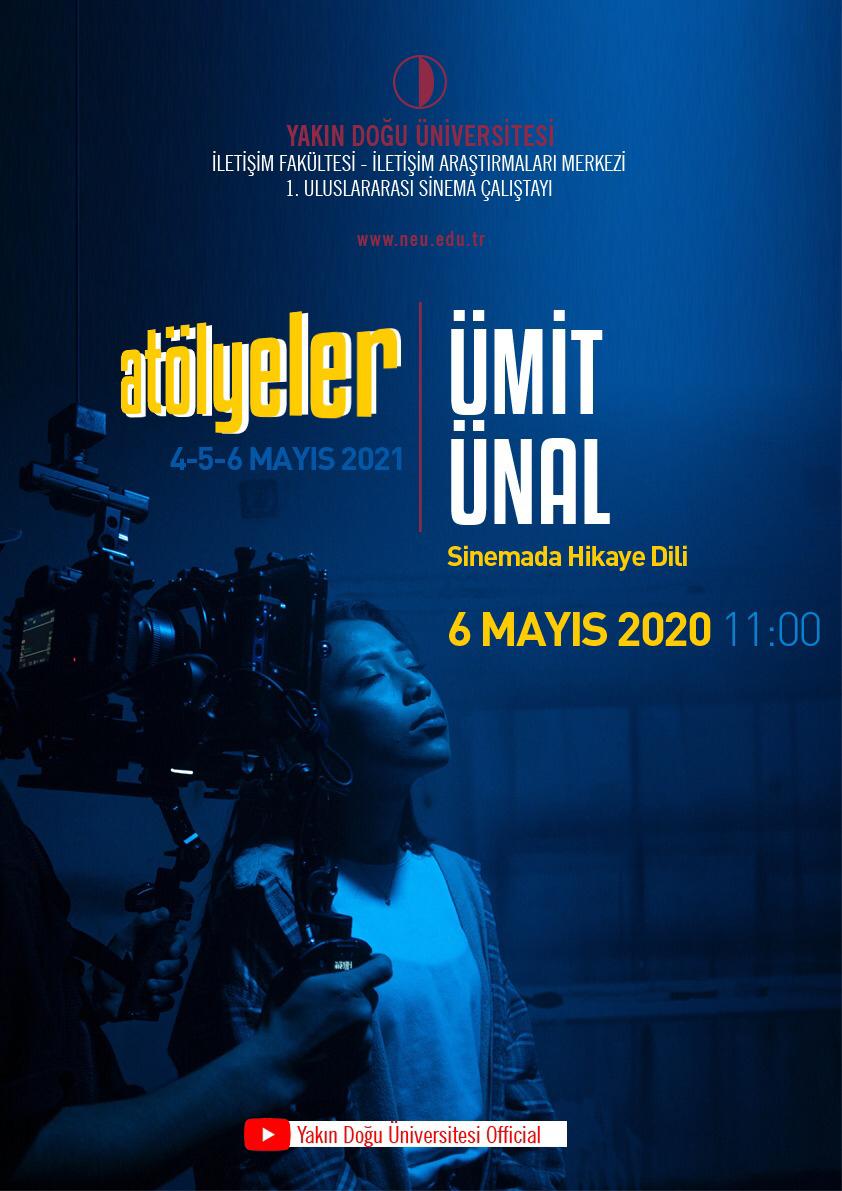 (Story Language in Cinema) (Thursday, May 6, 2021, 11:00)
(Moderator: Faculty Member Dr. Zuhal Çetin ÖZKAN)
Ümit ÜNAL (Director - Screenwriter)
Born in Istanbul in 1965, Ümit ÜNAL graduated from 9 Eylül University, Faculty of Fine Arts, Department of Cinema-TV in 1985. The short films he made during the school years received various awards. His first script, My Aunt, won the First Prize in the 1986 Milliyet Newspaper Script Competition and was filmed by Halit Refiğ. Eight scenarios were filmed between 1986-93.
He wrote and directed his first film "9" in 2001. 9 was selected as Turkey's candidate for the 2003 Foreign Film Oscar and received awards at various festivals. In 2004, he directed the film Anlat Istanbul, of which he wrote the script as well, together with 4 other directors.
Ara, which he wrote and directed, released in 2008, received the special jury award at the 27th International Istanbul Film Festival and the best script and best editing awards at the 15th Golden Boll (Altın Koza) Film Festival. In 2008, he scripted and directed Hasan Ali Toptaş's novel Shadowless. In 2010, he directed the movie Sound, which was written by Uygar Şirin. Unal most recently directed the movie Nar, which he wrote in 2011.